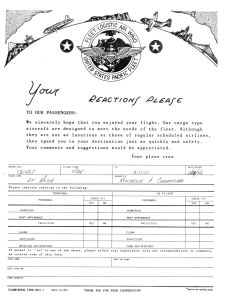 This item was a total surprise. I remember the flight out of Adak but I don't
remember receiving this item from the crew. How it has survived is anyone's guess.
It is dated February 21, 1956, the day I left Adak. It shows a bureau no. 131567.
Flight from Adk which I am certain is Adak. The 'To' part is what I am not sure
of - I have the Travel Voucher which shows that I was flown out of Adak on
February 21, 1956 and arrived in Kodiak the same day. On February 22, 1956
I was flown out of Kodiak and arrived Whidbey Island, Washington that same day.
Next I was on a bus.