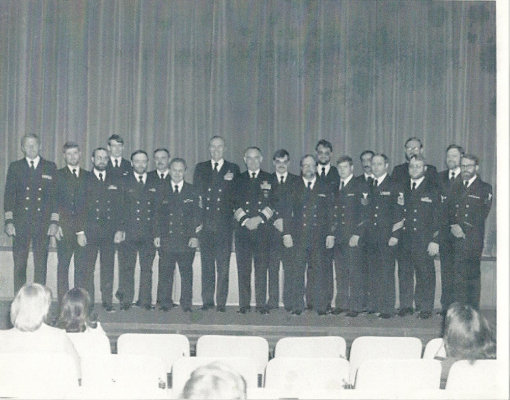 Riders of the Deep Award Ceremony
Ed Lumsden comments:
Photo taken in Norfolk, Va, CincLantFlt. It was an awards presentation for sub riders. The officers were ComSubLant,
his Chief of Staff, and an U/I Admiral. It was supposed to be for guys who had made a certain number of runs,
but there may be a couple of guys who had only made 2-3 runs.
Harry Stackler comments:
Believe one of them is Steve Landkammer (RIP), Nick Burneff, Zane 'OB' Bedient, Frank Arnold, Roy Compton,
Timmy Snyder, Danny 'Mac' McCarthy (RIP), and Ed 'Lumpy' Lumsden. The one between Roy and Tim
was a T-bird, the one next to OB is an R-Branchers.