Steve Duncan in the barracks after
getting to Guam. This is circa May '71.
This was just after we boarded up the
windows, applied visqueen to them, and
installed the first air-conditioning. These
were the older concrete barracks.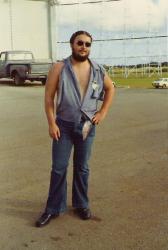 Steve Duncan on his last
duty day on Guam. Man,
what an ugly "Z-Beard"!