Guam Island .. 1971 - 1973
Images and narrative from Tom Shirley
Please scroll-down. There are 10 photos.
Click-on the photos to enlarge.
Tom reenlisting, 1972. This was in an era when 'unusual' reenlistments were popular, such as reenlisting while sky diving, while under water scuba diving, etc. Best we could come up with was to reenlist on Christmas morning (but after the swearing in we had brunch with bloody Marys). CTRC Paul Fennessy shaking hands with Tom, photo right. Don't recall the officer's name.
Boonie stomping, 1972: As the primary photographer I appear only in the 'Tank Farm' picture; otherwise here are some guys from our HFDF watch section. Lesson learned: it's WAY easier finding your way around a 360-degree radio direction finding scope than locating Tweed's Cave.
| | |
| --- | --- |
| | |
| Bare-Ass Beach | Coral cliffs above B.A.B. |
| | |
| Near Tweed's Cave (we think, maybe) | The 'Tank Farm.' CTR1 Tom Shirley (top); CTM2 Dave Jennings (below) |
The old Spanish Bell Tower, built of stone and mortar, dates back to 1910 and was erected under the guidance of Father Cristobal de Canals. The bell signaled town meetings, Mass and other religious events. Now familiarly known as the Merizo Bell Tower, the bell is still in place but no longer in use.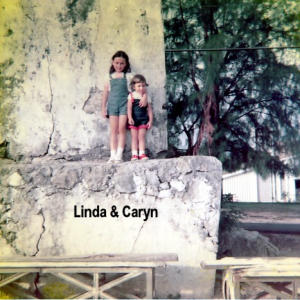 Linda & Caryn standing on the base of the Merizo Bell Tower
Taolofofo Falls, a 30-foot cascade on the Ugum River, gushes into a deep pool framed by sheer stone ledges. An easy 'family boonie stomp,' this idyllic spot is a favorite for picnicking and swimming.