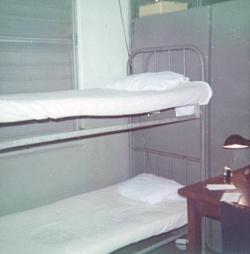 Barracks life, Sabana Seca, Puerto Rico. This is a picture of my bunk
taken by myself (John Whitmire) in October 1966. I had the bottom
rack and we had a BM1 CMAA that went aroung the barracks
everyday and made sure all racks were made and all cubes were
cleaned. On weekends we let everything go and Boats was there first
thing Monday morning. I can't remember his name but he spent all his
time with NAVSECGRU, never went to sea and he made BMC!